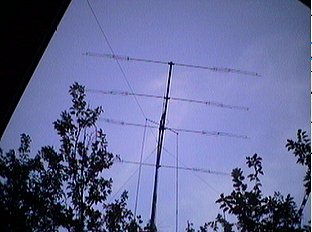 One of my favorite topics. I have been looking for that magic antenna for nearly 50 years. I have found some good and effective radiators but nothing magic.
Experimenting with antennas is probably the most rewarding of all endeavors for the smallest amount of investment. Wire and insulators will go a long way to get you going.
Here then, are some links to some articles that might inspire activity.
GENERAL – Comment for the newly licensed.
SHORT DIPOLE – Small is not better but it is not a disaster either.
VERTICAL – Can there be such a thing as an efficient vertical?
BEAMS – All it takes is money
VHF DISCONE – Just the thing to use with your scanner.
TRAP DIPOLE – Easily constructed 40meter traps for an all band antenna.
40M BEAM – Beams don't all have to be horizontal.
SHUNT FEED – Put that tower to work as a vertical antenna.
BASIC ANT STUFF – Sometimes it helps to review the basics.
AM LOOP – Do some broadcast band DXing without going outside.
MULTIBAND – Why multiband is not multi good.
ANTENNA THOUGHTS – Getting a grip on radiation patterns among other things.
TRAP VERTICAL – Now why didn't I think of that sooner?
This link will take you back to the K5DKZ home page. You can also get there by selecting K5DKZ under the Pages heading in the green sidebar.